Test your mettle in a game with other guests. What could be more exciting than taking part in a tournament? We're one of the first casinos in Europe to regularly organise top-class tournaments with big prize opportunities, for example our monthly gaming machine tournament. We always ensure fun, games and sizzling excitement for our guests.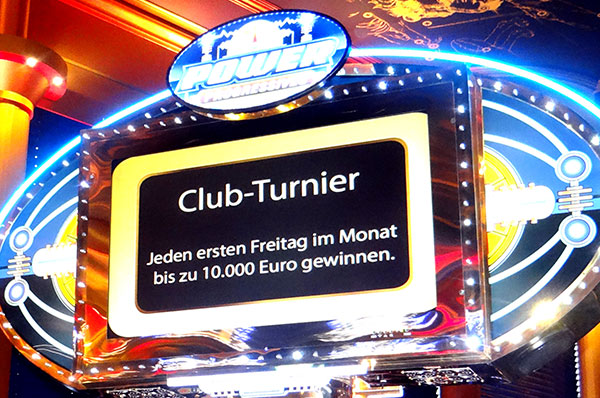 The first Friday of every month is a special day for all Clubcard holders who've won a jackpot in the previous month. All winners of the Mystery Room Jackpot and the winners of the Club Jackpot are automatically entered into our grand monthly slot machine tournament - where you could win over €10,000 without having to make a stake.
On your mark, get set, go!
Every Sunday, four exciting horse races start on the gaming machines at Casino Wiesbaden. The races start at 5 pm, 7 pm, 9 pm and 11 pm.
Qualify for the races!
To place a bet on our horse races, you can always qualify at participating machines in the two hours before the next race starts. The prerequisite for this is that you have a Bonus Card. You will always be notified whether you're included 15 minutes before the start of the race.
Back the right horse!
Eight horses run in each race. Now it's up to you to bet on the right horse!
Win valuable bonus points!
Every Sunday, there are 200,000 bonus points to be won. Points that are not won go into the jackpot. If the jackpot is cracked, up to 625,000 bonus points will be paid out to all players who bet on the right horse.