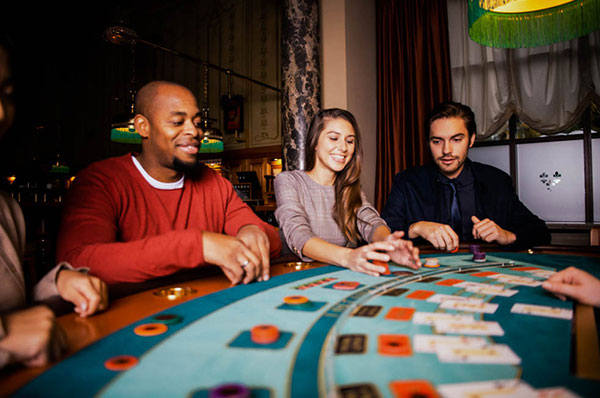 Blackjack is already about 500 years old and the enthusiasm for this card game is unabated. It first became fashionable in France, where it was still called "vingt et un" or, here in Germany, "17 und 4". The Americans called it "Blackjack" and the game began its triumphant advance in European casinos under that name.
The reason for its great success is certainly the simplicity of the game. You play against the bank and have to achieve a score higher than that of the dealer, without exceeding 21 points. You are dealt two cards to start with and, after that, more cards on request. If you exceed a score of 21, the bank wins. If you have more points than the bank, or even a Blackjack, you win. There is a rule that works in the players' favour: the bank has to draw up to and including 16 points and, from 17 points onwards, is not allowed to draw any more cards.
Blackjack is played with several decks of 52 cards each. The picture cards are worth 10 points, the aces 1 or 11 points and all other cards for their printed number of points. You place your bet on a rectangular betting area called the "box". You are deemed to be the holder of a box if you sit in front of it. One box can be used by several players. However, all the game decisions are made exclusively by the box holder
As soon as all the players have placed their bets, the dealer stops the betting by saying "No more bets". No further bets may now be placed, nor existing bets changed or withdrawn.
The dealer starts with what is called the "initial deal". This means that each box holder, and lastly the bank is dealt an open card. After that, each box played is dealt a second open card.
Now you have to try to get as close as possible to 21 points. The dealer asks you if you need another card, and you reply "Card" if you want another card or "Rest" if you think your score is already high enough.
Once this process has been completed for all players, it's the bank's turn. However, it is bound by rules when drawing new cards. The dealer must draw until they have at least 16 points and may not take any more cards once they have reached 17 points. When the scores are subsequently compared, if you have a higher score than the bank without having exceeded 21 points, you win the amount of your stake.
The Blackjack is the highest possible card combination and consists of an ace and a picture card or a ten. It is only valid if the combination occurs in the "initial deal". With the Blackjack, you win 1.5 times your stake.
Would you like to become a real Blackjack professional and to also master splitting, doubling and other refinements? Then our staff will be happy to help you!